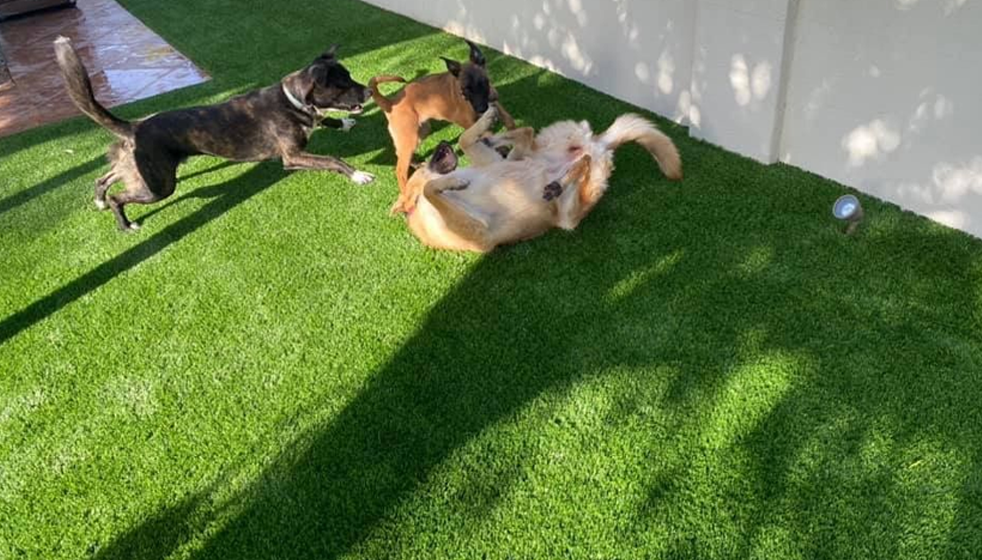 Maricopa County's
Premier Installer of Pet Friendly Turf To preempt your question, "Is your turf safe for my pet?", let us answer with a resounding, "Yes." For over a decade, Green Forever has provided Phoenix, Scottsdale, Tempe, Mesa, Glendale, Surprise and Chandler residents with superior quality, maintenance-free lawns that pets enjoy as much as you. Pet friendly turf is our specialty. There's no doubt synthetic grass will beautify your home, but we know that as a pet owner, you value durability. That's why—unlike other synthetic grass companies in Phoenix—Green Forever prioritizes odor elimination and efficient drainage to keep your lawn smelling and looking fresh.
Our materials and installation process ensure your lawn's lasting health, because we focus our attention on aeration, drainage, and neutralization as much as aesthetic appeal. Envirofill, our soil alternative, increases durability with a deodorizing infill that neutralizes ammonia-based odors. You'll never have to worry about your pet's business ruining your lawn. Made with 100% lead-free non-toxic materials, our synthetic turf provides a durable lawn solution that will exceed your pup's standards, no matter their funny business.
The Maricopa County's Artificial Turf for Dogs Designed for Durability Whether you have one small pet, or a whole zoo of furry friends, Green Forever's artificial turf for dogs provides the perfect yard for you and your pets. All our products are eco-friendly and 100% pet safe. Our Pet Fresh deodorizer will keep your lawn smelling clean, so you and your dog can make the most of it. We're pet-approved and owner-endorsed. Call us for a free estimate.. (833) 476-4387 or fill out our contact form to have us contact you.